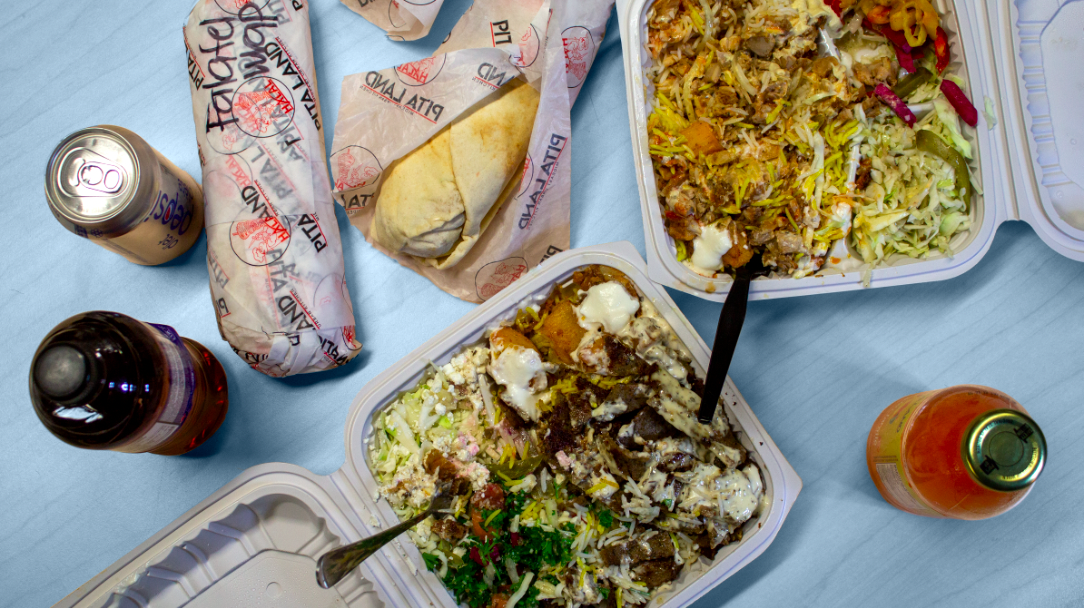 Balanced meals you can find near campus for under $20
Delicious, low-cost and fulfilling meals aren't all that far away
By Zarmminaa Rehman
Visuals by Vanessa Kauk
Budget-friendly student grocery plans and fast food options may often consist of instant noodle packages and 2 a.m. McDonald's runs. While many quick and easy meals on or close to campus offer prices that don't cut too much into students' wallets, not all of them qualify as 'healthy' or balanced meals.
Balanced meals provide nutrients for the body to function and assist in forming an overall balanced diet that "fulfills a person's nutritional needs." The 2019 Canada's Food Guide —which replaced the 2007 Canada's Food Guide which experts regarded as both "unrealistic and overly complicated"—is a revised nutrition model that focuses on how people can make conscious choices to better frame their meals in order to meet their personal daily macronutrient (fat, carbohydrates, protein) goals.
For students, affordability is another concern. Many are on strict budgets and given the high cost for food due to inflation, both in markets and restaurants, it can be difficult to meet an adequate nutritional intake without going over budget.
To satisfy your stomach and prevent compromising your wallet, here are three meals from places around campus that won't cost you your daily budget, keep you feeling full and maybe leave some leftovers:
Rolltation: Teri Shrimp bowl
Looking for sushi-adjacent fixings but don't have time for an all-you-can-eat buffet? Rolltation at Yonge-Dundas might be worth checking out.
The menu boasts multiple dishes including burritos, poke bowls, salad bowls and hot bowls. The Teri Shrimp—bowl or burrito—fills not only the criteria for a balanced meal (protein, carbs, veggies and healthy fats) but is also dangerously delicious. The meal comes with a reasonable portion of either tempura or boiled shrimp, a choice of brown or white rice, cabbage, diced cucumber, carrots, edamame, sweet corn, kani (crab) salad, tempura bits and a drizzle of teriyaki mayo.
For the food-to-price ratio, Rolltation offers a sizable portion for prices ranging from $11.30-$18.10 (tax included). This particular meal sits at $14.10 after tax, granted you don't make any major substitutions.
Pitaland: Falafel wrap
If seafood is not an ideal option then you can't go wrong with a shawarma or falafel wrap. Restaurants may differ in terms of how they make them but the basics are always there.
If just getting a chicken or beef shawarma feels a bit habitual, switch it up with a falafel wrap instead. The wrap is served in a flour pita filled with crispy falafel, lettuce, tomato, pickles and turnips on a creamy hummus base, topped with Pitaland's famous tahini sauce. It ticks off all of the boxes for your recommended nutrient intake.
The wrap alone costs $12.87 but with a side of garlic potatoes or lentil soup and a drink, you can purchase a combo for under $20. The meal can also be saved for a later snack.
Service Hub Cafeteria: Soup or Revolution Noodle
If you're in the Podium (POD) building and don't have enough energy or time to go anywhere off-campus, then check out the Hub Café. The cafeteria can be considered a hidden gem because not many people know what or exactly where it is—the second floor of the POD building below the library floor. The Hub Café offers a wide range of appetizers, baked goods, drinks, on-the-go snacks, burgers and chef special entrees all at student friendly prices. Toronto Metropolitan University (TMU) OneCard flex dollars can also be redeemed as payment here.
Using seasonal and locally sourced ingredients, the café has a rotational chef's table and soup menu that changes on a weekly basis. It features four different daily soups that range from chicken noodle to borscht. To pack some more power into a meal, try Revolution Noodle, a food station inside the cafeteria which allows students to customize their pasta to personal taste and liking. The hub café also has dietary conscious meal options that suit almost everyone's dietary necessities and preferences.
Go Back