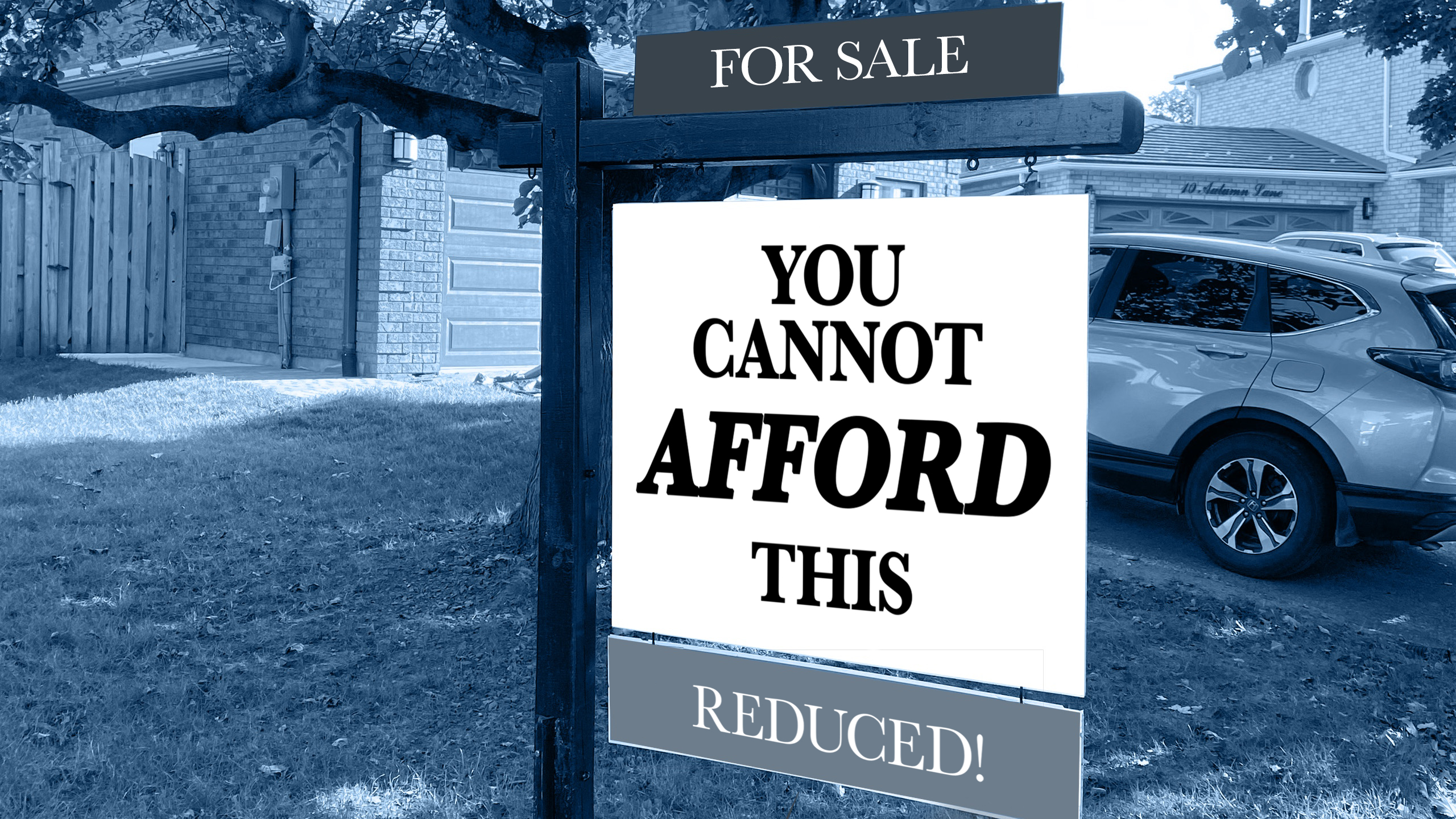 First- and second-generation Canadian students fear they'll never own a home in the GTA
Amid rising real estate prices, students say goodbye to both the city and their dreams of owning a house
By Samreen Maqsood
Visuals By Vanessa Kauk
When Ahmed Bein, a first-year business technology management student at Toronto Metropolitan University (TMU) immigrated from Saudi Arabia to Toronto with his family seven years ago, it became the city where he grew up and an influential part of his life.
Seven years ago, the average living wage in Toronto was $18.52 an hour for a family of four, with both parents making the same amount and working full time, according to a report by the Canadian Centre for Policy Alternatives. And based on a report by the Toronto Regional Real Estate Board, t he average cost of a house in Toronto was $ 622,116.
The Ontario Living Wage Network states that the average living wage is $22.08 an hour while the average house price in Ontario is $1.1 million, according to an article by The Canadian Magazine of Immigration.
Bein says for immigrants like himself and his family, they make long journeys to new places in hopes of adapting and calling it home. Although he dreams of being able to purchase a house, Bein says it's scary and sad how unaffordable living costs are driving people away from their homes.
"People have made history here. This city accepts minorities and encourages them to come and settle down here," he says. "It's sad to see them leave because of this and the last thing they want is to keep moving from city to city."
F irst and second generation TMU students are scared their dreams of owning a home are too far to reach in the current economic climate. For many of them, the increased costs mean moving away from the Greater Toronto Area, where they grew up.
Toronto's real estate market has never been more rocky. According to the 2022 report by UBS Global Real Estate Bubble Index, property prices in Toronto and Vancouver have increased to the highest rate in five years, with the cost of a home now 14 to 17 per cent higher than last year.
A lthough the city's real estate mortgage rates were declining in 2019, the low mortgage rates increased the price of houses greatly, according to a 2022 report by UBS Global Real Estate Bubble Index. According to an article by Investopedia, this is because lower interest rates on mortgages increase the demand for property, which increases the average house price.
Fourth-year fashion communications TMU student Joseph Gleasure is a second-generation Canadian. Owning a home is one of Gleasure's biggest concerns. Gleasure has been looking at the Vancouver real estate market rather than Toronto and plans to move there after graduation, which according to Mercer's Annual Cost of Living Index, isn't much more affordable. The city comes in second to Toronto as the most expensive city in Canada to live in.
In a survey by Royal LePage, 39 per cent of Canadians aged 25 to 35 have considered moving out of their current homes to "less dense area[s]" since the start of the COVID-19 pandemic. The survey also found that in the Greater Toronto Area, the number of people who want to leave the city for a less dense area is 46 per cent.
"I thought to myself, what's my realistic plan to own home ownership in a major metropolitan area in Canada?" Gleasure says. "Well, there is a path. It's just very tricky and it relies on a lot of sacrifices."
These sacrifices include leaving Gleasure's hometown Mississauga, Ont. "I don't know, honestly, how anyone is supposed to live like this and achieve any of those personal goals that they want to."
Murtaza Haider, a data science and real estate management professor at TMU, says one of the solutions to the area's high real estate prices is to build more homes.
The provincial government announced on Oct. 25 that they aim to build 1.5 million homes in Ontario, 285,000 of which will be in Toronto, in the next decade. But for Gleasure, one of the problems isn't that houses aren't being built, but the type of homes that will be built. Building bigger houses in cities is "ridiculous," as the goal should be to build houses that are more affordable, Gleasure says.
"There has been no past initiative to build more homes, and it won't be happening in the next five years, making purchasing a home even that more difficult," says Haider.
There is a lack of affordable housing in the city. According to the Canada Mortgage and Housing Corporation, 30 per cent and more of household incomes in Toronto are spent on shelter. According to an article by Insurdinary , the average individual income in Ontario is $52,600 as of October 2022. With a decrease of 5.23 per cent in the average individual income, housing expenses are becoming harder to keep up with.
According to Mercer's annual Cost of Living Index, Toronto is the most expensive city in Canada to live in and the 89th most expensive in the world.
Do gan Tirtiroglu, the chair and professor of the real estate management department at the Ted Rogers School of Management, says Toronto is a well-liked city all over the world, with a constant flow of migrants not just from around the world, but domestically as well. As people come and go, the population size and living costs increase proportionally, creating disparity between housing prices.
Mikhail N ovokshonov, a third-year business technology management student at TMU, says buying a home in Toronto is just not worth it to him. He plans to move out of Toronto to either reside somewhere else in North America or Europe, depending on what city offers jobs best suited for him.
As a first-generation immigrant from Russia, N ovokshonov came to Canada with his family in 2015. They have rented their home since they arrived and currently, he lives alone in the city in an apartment.
"I don't think I'll ever own anything and I think most of my peers have sort of the same position," he says. "It's either you really, really like Toronto and you're going to rent for most, if not all, of your life, or you're going to move out of the province because eventually, it's just unfeasible."
Novokshonov says he has always planned to rent in Toronto or eventually move. "The pandemic has given me a lot to think about and I'm also not ready to settle down. That, combined with the economic conditions, I'm reminded a lot about how young people may never own a home."
According to economists who were surveyed by the Toronto Star, Toronto's real estate market is set to decline by 30 per cent in spring 2023, a significant enough drop to be labeled as a housing crash amid the Bank of Canada's decision to continue to increase interest rates to slow inflation.
However this doesn't drastically change housing prices by very much, experts say. According to an article by the Canadian Mortgage Professional magazine, former chief economist at Statistics Canada Philip Cross says with the expected market crash, prices in some of Canada's regions will only drop to December 2020 levels. In an article by Now Magazine, houses at that time were averaging at $894,576. To make the housing market sustainable, a 40 to 50 per cent drop would be needed, Cross says.
"If the idea is to buy a house because prices keep rising, it's the wrong presumption, as prices tend to collapse. And when they collapse, they collapse big," says Tirtiroglu.
However, this does little to ease students' fears.
"It's ridiculous that people our age have to rely on economic crashes that bring untold suffering to millions of people, just to achieve the same level of financial success as our parents or their parents," says Gleasure.
Go Back