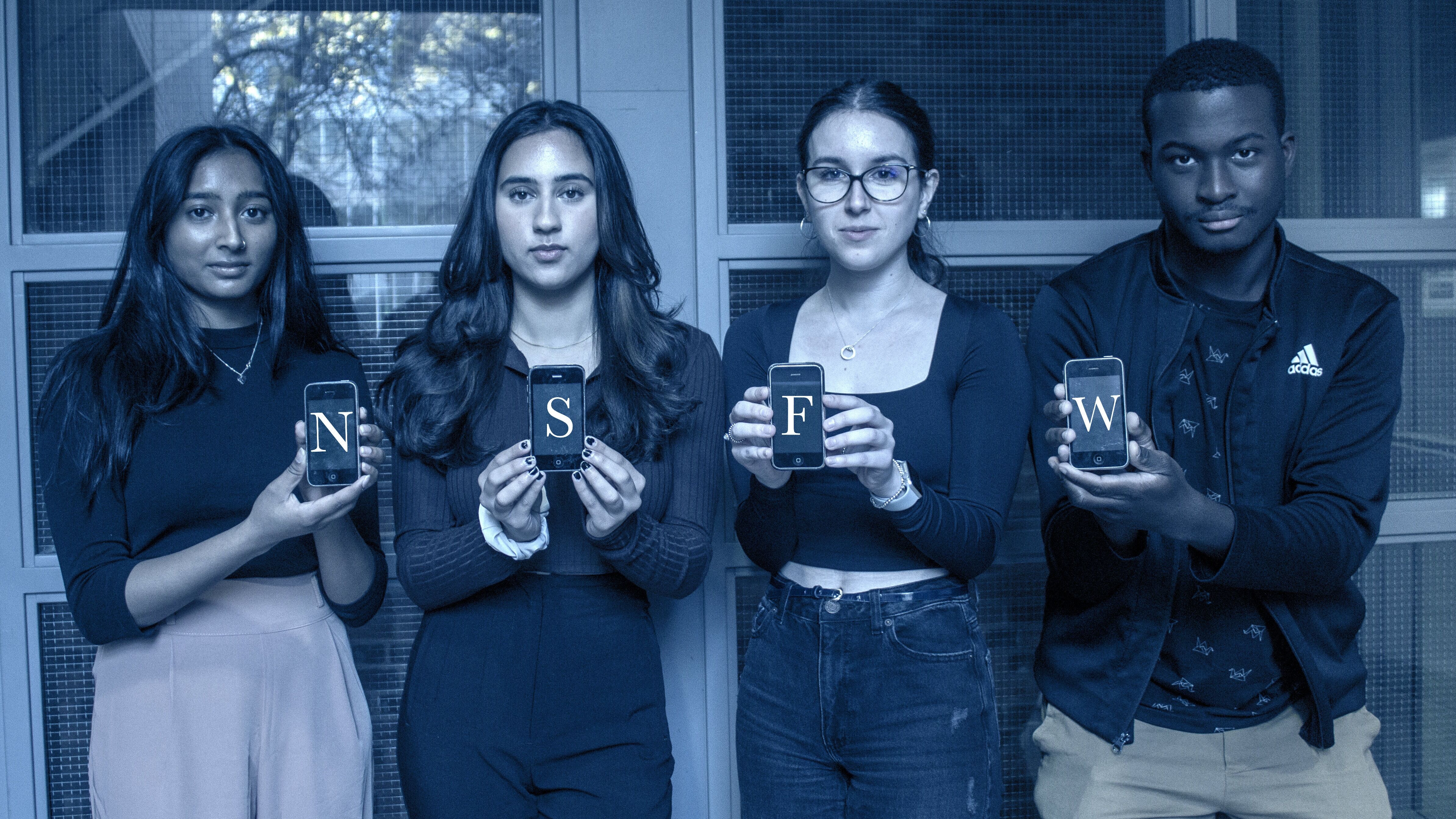 NSFW songs you should never ever play at work
But you can play them immediately after to let off some steam.
By The Eyeopener Masthead
Visuals By Vanessa Kauk
Everyone has those days at work where everything feels so painstakingly boring and mundane. We've all been there, eyes half-lidded, working away at the same task you've done at least 500 times. It makes sense to want to liven up the day with some good ole' fashioned music—the kind that acts like a jolt to your system and gives you the will to make it to 5 p.m.
And while music is a great mood booster and can incentivize you to work harder—to grind if you will—remember to be selective about what you listen to in your workplace. There's a reason ' Happy Corporate Royalty Free Background Music ' has 78,000 views on YouTube, and it has everything to do with human resources (HR).
That being said, for the days you do feel saucy enough to listen to some spicy, maybe even raunchy tunes, The Eyeopener's masthead has a playlist just for you! But remember, never EVER listen to this in an office setting. Please.
"Smack a Bitch" by Rico Nasty
This is the ultimate "I had a bad day at work" track. This one's best for when you've been smiling through gritted teeth all day and need to get into your car and scream. The gritty beat and Rico Nasty's strung out, passionate lyrics will definitely fan your flame. Coffee is cold? Smack A Bitch. Janet from HR used the last of the printer ink? Smack A Bitch. Of course in reality, you're only slapping the steering wheel and venting to nobody all the way home. ( The Eye doesn't encourage violence of any kind).
"Wet Dreamz" by J. Cole
You know a song is NSFW when it's about the first time someone had sexual intercourse. Sure, maybe these sexual triumphs can bring people together, but do you really want lyrics that say: "And most of all, I'm praying, God, don't let me bust quick" blasting throughout your office? "Wet Dreamz" might be one of J. Cole's most popular tracks, but you might want to save the virginity loss anthem for your headphones.
"War of Hormone" by BTS
Sometimes, as a woman, you've got needs. Needs that can, more often than not, be met by seven Korean men, more famously known as Bangtan Seonyeondan or BTS, telling you to go back into the kitchen and cook. For those with a degradation kink, being objectified may be your biggest wet dream. But maybe keep it to yourself. Nobody at work needs to hear Jungkook say "Girls are equations and we solve it. Please wear more high heels." Unless they are ARMY.
"Work Bitch" by Britney Spears
It's Britney bitch! This song should be everyone's go-to for when it's time to just Get Stuff Done—although even the most modern offices probably wouldn't be cool with it blaring beside the water cooler. The upbeat melody paired with Britney's motivational lyrics are sure to get anyone through even the toughest day at work. This is the kind of song you put on when your boss unexpectedly hands you three new tasks to get done before 5 p.m. on a Friday or when you need to hype yourself up on Monday morning as you begin to tackle your overflowing inbox. You're sure to be the most productive you've ever been as you're listening to Britney repeatedly tell her "bitches" to "get to work!"
"Love Talk" by WayV
There isn't a song more suggestive than WayV's "Love Talk." The Chinese boy group belts about how love transcends any language barrier in this seductive banger. Even though it's a certified bop, it might not be the best song to listen to when you're on your lunch break. Originally titled "Body Talk" with some very explicit lyrics, the final version has been toned down tremendously, which is surprising when you take a good listen to the group as they brood about how they love the way you talk. "Love Talk" pairs lyrics such as "Touch me tease me feel me up" and "I just want you to make it clap" with a slow seductive melody, which is why it landed on this list. Moral of the story (or more specifically this song): stop sleeping on WayV and start sleeping with WayV!
"Pony" by Ginuwine
This Magic Mike, exotic bump-and-grinder moment is almost certifiably not suitable for (most) workplaces. Ginuwine knew this guilty pleasure in the key of C sharp minor would have all corporate workers daydreaming about the saddle. Suddenly, I'm a horse girl.
"WAP" by Cardi B featuring Megan Thee Stallion
"WAP" by the acclaimed artist Belcalis Marlenis Almánzar Cephus, a.k.a Cardi B, is an anthem for thottery as is evidenced in the first line of her song where she sings of "Whores in this house." Sadly, thottery is not appropriate for the workplace. That being said, The Eye 's mantra during production is still "Gobble me, swallow me, drip down the side of me," as we, in our wet fashion, hit our deadline. The song takes listeners through an eccentric, damp, orgasmic experience. While the song gives water, mop and bucket use a glowing review, others like right-wing conservative commentator Ben Shapiro still opt for a dryer sexual experience. If you don't believe us just ask his wife—she's a doctor. Overall, at The Eye, we hit deadlines not pussy!
"Cbat" by Hudson Mohawke
If you used TikTok within the last few months, this song must've come across your 'For You' page at least once. Known as the "Reddit Sex Song", the musical stylings of Mr. Mohawke may not have tickled this Reddit user's girlfriend's fancy and it surely won't be appropriate for the workplace. The tingling sensation of the triangle perfectly coordinates one's carefully-choreographed thrust of the hips and will have you thinking about positions in the bedroom while you're situated in the boardroom.
Go Back